horley Cakes Folk
Traditional music for Ceilidhs and Performance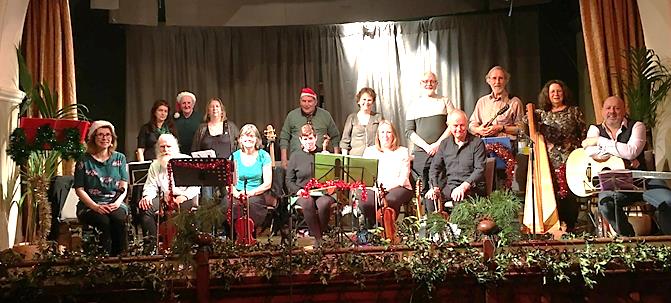 Planning a ceilidh – questions answered and a few tips
What is a ceilidh? A ceilidh (pronounced kaylee), barn dance, folk dance or hoedown (possibly more American Country and Western style) are all basically the same thing - an evening of fun with dances for couples and groups, to traditional music usually from Ireland, Scotland and England though Chorley Cakes Folk also play traditional tunes from Europe, Scandinavia and the wider world; the music might be familiar to some and usually appeals to everyone.
Ceilidhs are becoming more widely put on for weddings now although they have always proved popular for community, themed (eg St Andrew's Day, St Patrick's Day, Burn's Night and Christmas) and social events, birthday parties, church and charity fund raisers and corporate team-building events. Ceilidhs usually appeal to all ages, to everyone; they are great fun.
The dances: There will be a mix of dances in various set formations - large circles, square sets or long sets. For some you'll need a partner (you can dance with anyone), others not. The dances will be easy enough for beginners to dance but if you require more adventurous or interesting dances, we can provide them. There will be music to listen to occasionally whilst you catch your breath and rest your feet. The dances will range from slower waltzes to more lively jigs and hornpipes, and some will be mixer dances where you swap partners; the emphasis is on having a go and having fun! If you have any special requests or particular dances you'd like, please mention this to us during the booking process. If the ceilidh is for a wedding, we trust the happy couple will let the guests know that they will be encouraged to take part and join in the fun and may wish to bring some comfortable footwear to dance in.
The caller: 'I don't know how to dance!' is often said - but it doesn't matter because we will have a caller who will walk you all through the dance steps first so you know what to do. Then as the dance starts the caller leads you all through the moves, telling you where to go, so you shouldn't get lost - but if you do it all adds to the fun and you will be helped as our caller will see you struggling and go to help. No one should ever feel worried, ceilidhs are fun events and easy enough for young children to take part in and the caller is used to recruiting reluctant people onto the floor.
Planning the ceilidh
It's a good idea to start by attending a ceilidh yourself so you know what to expect and you can practise a few moves before your event! Talk to the organiser too and get a few tips. We should be able to tell you of an event you could attend in the northwest.
The venue: Find a venue that is about the right size for the number of people expected to attend. Venues usually explain how many people they will hold, but you will need to look at the space and see if there is room for what you want and a large enough dance floor (carpet is not easy to dance on).
Think about the seating arrangements and whether you want tables for people to eat at and put their drinks on – these would be best placed around the dance area if possible. Check availability, hire costings and timings with the venue.
Ask if there is a stage which the band could use - it doesn't matter either way but it's useful to know. And, as we are a large band if we all attend, check there is space tor 10 or more musicians and our PA equipment with mics and speakers. We can provide a smaller band if required.
If your ceilidh is an outdoor event or in a marquee there are more things to take into consideration – for example the weather and temperature, cover, floor type (it's not easy to dance on grass) and electrics.
Tickets and advertising: You will need to think about all of the costs and work out an appropriate ticket price – things such as cost of venue, band, food and drinks if provided, and advertising costs – posters, flyers, advertisements. If it is a charity fundraiser, it is very important to advertise well and widely, we can help with that.
What does the band provide and need? Chorley Cakes Folk have our own PA equipment, speakers, mics etc, and we would be happy to lend it for announcements or raffle prizes to be announced. Our electrical equipment is PAT tested (Portable Appliance Tested) and we also have PLI (Public Liability Insurance), your venue may need to see these certificates. If you wish to request a special first dance or music for an interval please let us know, we can also provide this.
Power supply and access: It is important that the band has access to electrical sockets and car parking close enough to unload equipment. We like to arrive an hour before the event to set up and do sound checks but we pack away in about 20 minutes.
Chorley Cakes Folk need to know the following when you book: Your name, telephone contact number, contact email address, event name, date and timings, and the venue. We also need to know what type of event it is (wedding, charity, Burn's Night etc).
If you wish to know more please ask
The Chorley Cakes Folk will do our best to fit in with your requests and help make your event more enjoyable and memorable
For more information or to make a booking please contact us.